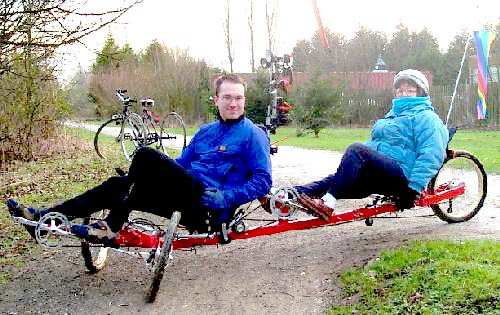 My home-built tandem trike
Technical description: Page 1 ----- Page 2 ----- Page 3
Over Summer 2000 I took the tandem on a tour, visiting Spokesfest in Leicester and Cyclefest in Lancaster. Read all about it here:
Tour index --- Tour page 1 --- Tour page 2 --- Tour page 3
Then in late 2001 I lent the trike to two sisters and a brother who wanted to take it across the USA for a charity ride. It was modified by Mike West of Specialbikes Ltd to take a Kettwiesel trike attached to the rear swingarm, making it into a five-wheel triplet. Luckily, it managed to survive the trip (and their 58mph top speed) without breaking :-) and is now back in the UK. You can read all about the Campbells' adventures on the machine here: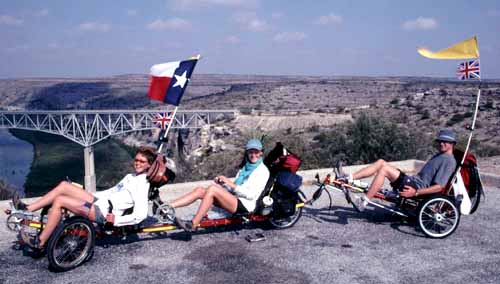 Three large JPEGs of the hitch built onto the back of the trike to tow the Kettwiesel can be seen here:
Overview ----- Detail ----- Close detail
The final chapter in my ownership of the tandem was pedalling it over to Cyclefest 2002 in Lancaster, where its new owner, Luke Stephenson, was waiting for it. I hadn't been riding it for a while, and needed the space - and Luke will give it the TLC it deserves. Now to start planning Mark II... things I'd change include:
Clean up the chainline to avoid at least three of the pulleys used in Mk1, and avoid conflicts between chain and rear seat in certain positions.
Reduce wall thickness for rear and swingarm sections, and increase it in the front sections, especially between cross-beam and front seat, where there's most stress... this should safely save a bit of weight.
Rethink the way the sections join - Mk1 was a pig to get apart :-( and also, the exposed bolts somewhat limited the seat adjustment.
Think more about luggage capacity from the start - it was a bit of an afterthought on Mk1
The rear suspension element was unsuccessful, using a home-made shock from an exhaust bushing. Either simple lump of rubber or a commercial MTB shock would be better.
Consider using a rohloff mid-drive system: increases complication a bit but avoids a very long derailleur cable to the rear.
Buy in modern kingpin assemblies with ISO disk mounts, so I wouldn't have to make adapters for the Hope disks...
Use bronze bushings or ball bearings for kingpins and handlebar pivots, instead of messing around with plastic ones which wear out fast.
Use a 48-spoke rear wheel (preferably with disk brake) from the start
Where aluminium is used, get it anodised or something to prevent corrosion.
Use a proper BB shell with threads in rather than bodge it with a 45 degree mavic-style chamfer as I did on mk1 - making getting spares on the road a nightmare.
Revise clamping of rear BB eccentric so as to avoid water ingress.
Revise seat attachment clamps so that paint isn't damaged when adjusting
Revise steering geometry to avoid very heavy action at full lock...
There's probably more...

I also gave a talk about the tandem at Cyclefest 2002; you can see the slides I used here.

Update 2012: Just to make it clear I no longer own the trike. It's now been through three owners and I'm happy to say it's still working fine, no breakages reported to me at least :-). The latest owners usually bring it to the York Rally and it was a pleasure to be able to give it a ride again at the 2011 event!

Update 2019: Good to see the trike is still in good shape! It's up for sale again here and the ad has a few recent pictures. It has new seats on now! Pic1 - Pic2 - Pic3