Tandem page 3

p0000034 is another view of the rear end...p0000037 shows the Hope Sport disk brakes, and the adapter blocks I had to make to the Greenspeed kingpins (they didn't make ones for Hope at that time, so I had to adapt his Hayes mount kingpins). p0000040 was supposed to show the handlebar end bolting arrangements, but the focus went funny...p0000043 is a nice pic on York racecourse.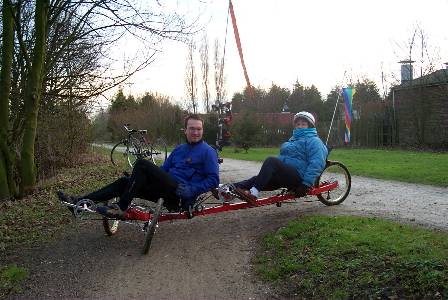 One final image showing myself with Hazel West negotiating a hairpin on the bike path just south of Bishopthorpe. The steering's not quite on full lock!
Well, all for now. I've only just got it on the road...we'll see how it gets on. Next I'll be adding mudguards, then carrying capacity (not sure how!).
(Back to Pete)