Lancaster to York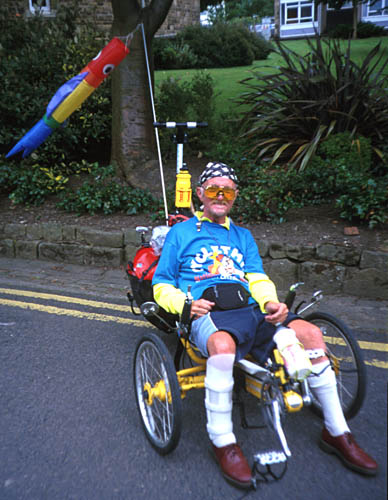 Cyclefest is great for, amonst other things, catching up with people. I hadn't seen Ken Davidson since a Bike Right event (2000 event is Nov 17, 18, 19, Wooler Youth Hostel, Tel Tom Johnston on 01668 282 209 or tom.johnston@lineone.net) maybe three years ago, when he tried my S-327, and liked it so much he got one. He's done some phenomenal riding on his, not least 40-mile rides with his leg still in plaster (he got run over when walking across the road in Newcastle). He's also got an interesting lighting mast and a fantastic 'fish' flag!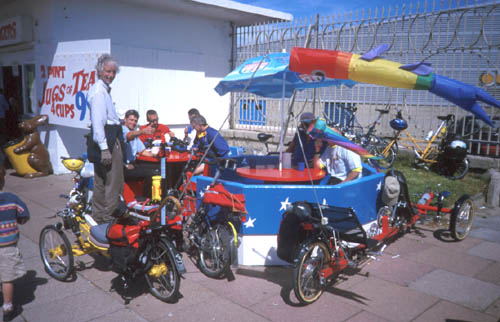 Tea on Morecambe Prom is a Cyclefest essential - four-mug pots for 99p! Only spoiled by the drone of go-karts - why aren't they pedal-powered?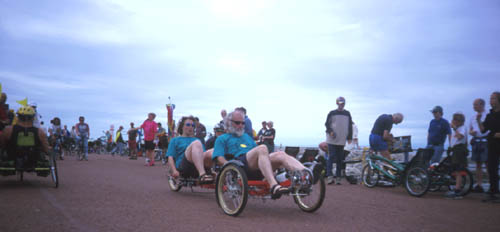 One of the best bits was the informal sprint racing on the prom. Here Cyclefest organisers John Bradshaw and Pat Strachan take the trike for a blast against Team Micwic. I managed to get Stefan on the stoker seat again, and we roasted all comers! After much touring of local bike shops the transmission was once again working, but sans Mountain-Drive.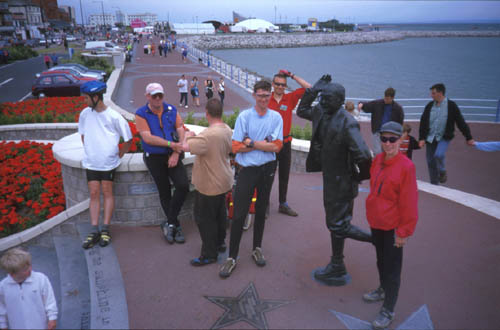 No visit to Morecambe is complete without paying respects to Eric Morecambe's statue, wonderfully unvandalised.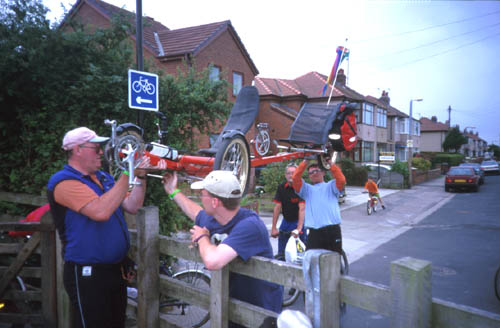 Just one barrier on the Lancaster-Morecambe cycle route defeated the trike, but a good team effort got it over.

There was much, much more to Cyclefest and many, many more interesting bikes and visitors than I've shown here - I just didn't get that many decent pictures! There were some great talks, a Torchlight Parade, a trade show...Ross's film was shown again, and on the Monday, there was still a good crowd for the 'Ice Cream Ride'. We hung around until that ride set off, then started towards Settle, our stop-off point on the way to York. Trev and Sharon rode with us until High Bentham, via the Great Stone of Fourstones, and then set of North on their End-to-End quest. I'd picked up another powerful stoker: Carl Etnier, whose pedicabbing in Oslo was the subject of a BCQ article - read about it here, too.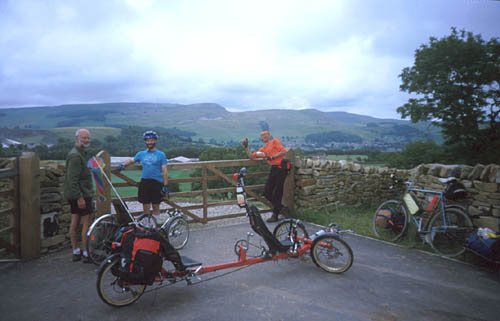 Last hill before descending into Giggleswick (which is the bit of Settle on the Western side of the river, though I'm sure that's not how Giggleswick residents woiuld put it). Storming descent, and Carl managed to prove the back drum brake works by burning rubber when I asked for a touch of brake!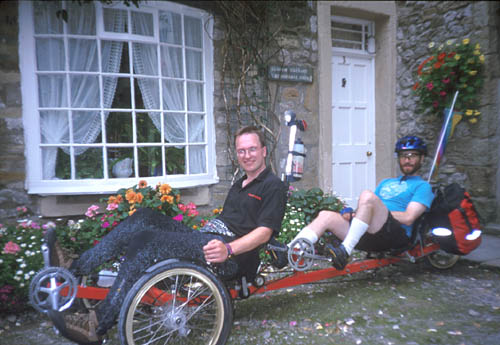 Well, you're not going to see it in this web-resolution pic, but the sign by the door of this house in Settle says 'Tandem Cottage'. We stopped in Settle at a B&B (Liverpool House, gets a thumbs up), which I'd booked ages ago, while our riding companions Jase and Paul (and Seamus, who we met again at Settle) went the few miles up the road to Stainforth Youth Hostel. The plan was to have a long day's riding the next day, and make it all of the 90 miles or so to the Open Road week at Escrick, just south of York.
We were just about to set out the next day, when, giving the trike a glance over, I noticed a broken spoke in the rear wheel. then looked closer, and found six broken. Probably something to do with lots of drunken people doing handbrake turns on it at full speed on the grass of the campsite the night before, sliding the whole trike sideways.
"Aha", I thought, after cursing myself for not packing some spares (I had to buy a pack of 144 to get the right length, so had plenty at home!). "No problem, we'll go to Settle Cycles" - one of the UK's better-known shops, largely thanks to a huge mail-order and internet operation. Well, they didn't have any spokes the right length nor did they have a spoke-rolling machine. Luckily, Settle Cycles is right opposite the railway station. We knew Seamus was catching a train in about 25 minutes from then, so we decided to abort the mission and join him - a total back wheel collapse in the middle of nowhere would not have been funny.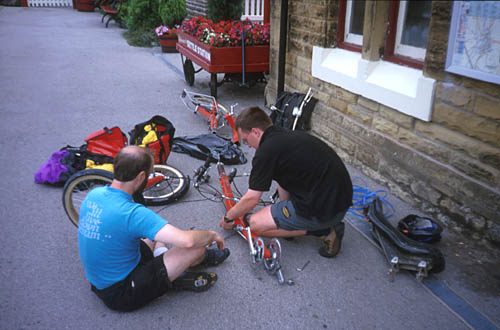 Take the tandem on a train? Well, some hurried dismantling ensued...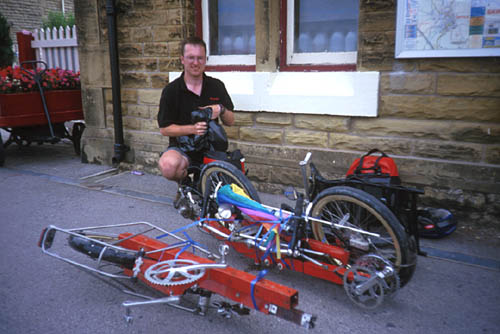 And with three minutes to go we had the tandem all trussed up (thanks to Settle Cycles for the ties) and took it onto the train with the guard hardly lifting an eyebrow.
That was the end of the film in my camera, but Carl took a few of the final stage of the journey - I ran back home, got my MTB and trailer out, shoved the Birdy on the trailer, pedalled that to the station, then we got the tandem on the trailer and pedalled home.
And that was that - a very pleasant few weeks! The trike had performed really well - fantastic and stable on the downhills, with the Hope brakes just superb. It had stood up to plenty of hammering (it was on the Leicester track way into the night - you could see it from the bar!) and the only 'damage' was some wear on the plastic kingpin bushings - I think I'll copy Greenspeed and replace them with bronze or Oilite.